Burkhardt Manufacturing LLC
Family owned and run since 1949, Burkhardt Manufacturing features a 9,000 sq foot facility which manufactures and produces wire products of all kinds.
George Burkhardt worked as a ship builder and engineer during World War II, he built his first wire forming machine in the basement of his and his wife Margaret's South City home. Here in their basement he first started producing wire formed handles for agricultural use. The business took off and soon after he purchased the current location in South San Francisco.
George and Margaret had three children, a daughter and two sons. After school his sons, Robert and Richard Burkhardt would work alongside their father, learning all about the business.
68 years later, still following in their father's footsteps Bob and Rich run Burkhardt Manufacturing, producing innovative and quality wire products – just like their father did.
"We enjoy our work, we enjoy our customers and the people we meet along the way." ~ Richard Burkhardt
Give us a call, we are happy to help you with your wire needs.
Ask for Bob or Rich 1-650-589-5804
Services
At Burkhardt Manufacturing we specialize in…
Automatic Wire Forming – Four Slide Machines – Hand Benders – Air Benders-  Straighten & Cut Machines – Ring Rollers – Spot Welding and more.
Classic Machines
These classic pieces of machinery would inspire… We still use our fathers original machines along with many historical pieces dating back to the 1920's, some pieces even date back to Playland by the sea 🙂
Other machines just don't compare to these well made, classic machines.
History of our Buildings
All three Burkhardt Manufacturing buildings were salvaged from the Tanforan detention facility which was closed in 1942. These buildings were used during World War II as a temporary detention camps established by the U.S. Army to hold Japanese Americans removed from the West Coast until more permanent concentration camps could be constructed  from April 28 to October 13, 1942
* By 1950 much of the military construction west of Tanforan was removed although thirteen original acres is still used by the U.S. Marines Reserves. The racetrack burned down on July 31, 1964. In the late 1960s it became the Shops at Tanforan Mall. At the southwest entrance of the mall there is a large statue of the famous racing horse Seabiscuit and two other historical markers that includes a brief description of Tanforan Assembly Center. In 2007, a Garden of Remembrance was planted in honor of the Tanforan internees.
* Densho Encyclopedia. Retrieved on April 18, 2017 from http://encyclopedia.densho.org/Tanforan_(detention_facility)/.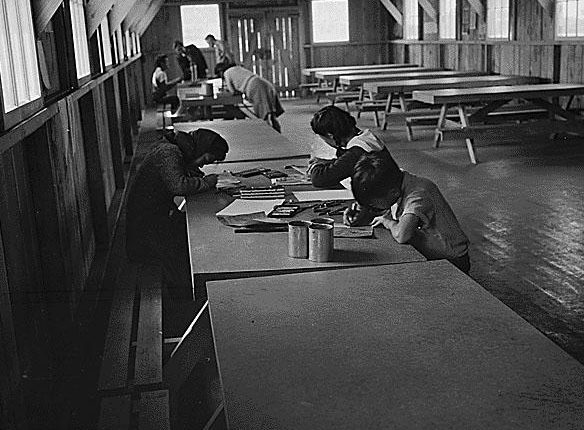 Drawing in the art school, photographer Dorothea Lange, Jun. 16, 1942, Tanforan Assembly Center, California.